Your home is not just the place where you live, it's where you enjoy your time, raise your family, create memories, and it holds your most valuable possessions. When a fire damages your home, it's normal to feel numb, lost and unsure about where to turn. XSI Disaster Services can help. We are your go-to solution for fire damage restoration in Atlanta.
If a fire does damage your home, learn the steps to take.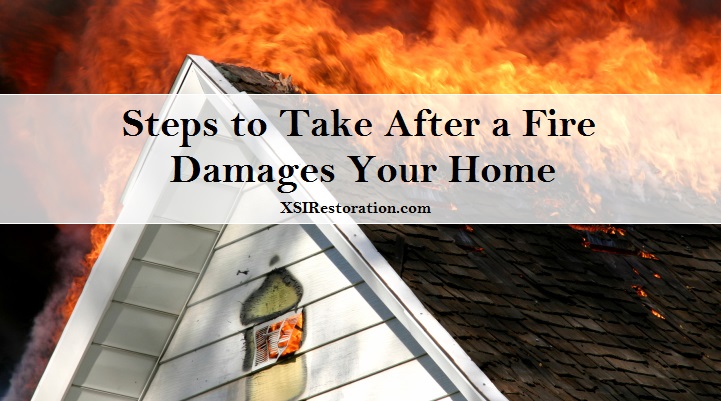 Steps To Take After A Fire Damages Your Home
1. Do Not Re-Enter The Property Until Fire Officials Have Told You That It Is Safe To Do So
Firefighters will need to ensure that the fire has been fully extinguished and that the site has been inspected to set up a safety zone, if required. (If your home has been severely damaged, you may not be allowed back in at all.)
2. Call Your Family Members And Insurance Company
It's important to call the members of your family who were not with you to let them know what has happened and to reassure them that you are all right. It's also vital to contact your insurance company to report the fire and start the claim process. The customer service representative will be able to tell you how to arrange for emergency shelter and living expenses. Be sure to keep copies of all your receipts.
3. Secure The Property To Prevent Further Damage And Looting
Emergency services can provide tips on the best way to do this. Your insurance policy will probably require that you take this step.
4. Request A Copy Of The Fire Report From The Fire Department. It Lists The Following Information:
Date and time of the incident
Condition of the house
Area where the fire occurred
Incident number
5. Enter The Property, Once You Are Given Permission To Do So, And Survey The Damage
Keep in mind that smoke and soot leaves a residue on wood, fabric and even concrete, since these materials are porous. The longer they are left on site after the fire, the worse the odors will become.
6. Contact XSI Disaster Services To Discuss Your Fire Damage Repair And Restoration Needs
We can remove your furniture and contents to our secure cleaning facility for inspection, cleaning, restoration and refinishing as required. For items which cannot be removed, we use ozone to neutralize the offensive odors left after a fire.
XSI Disaster Services – Restoring Your Peace
We here at XSI Disaster Services have the experience to deal with your personal documents, electronics and even your precious collectibles. Give us a call today at (770) 787-9096 to learn more about how we can help to restore a sense of normalcy and peace after a personal disaster.
We Are Here For You – Call Now!