High Pressure and Steam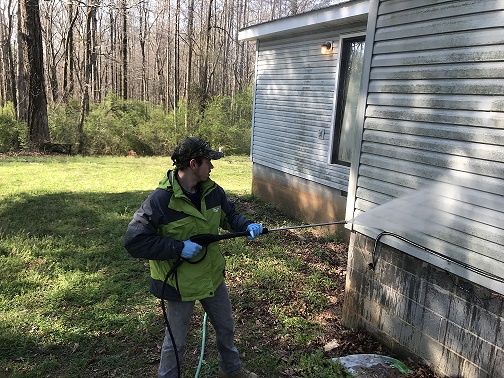 HIGH PRESSURE AND STEAM
To get your home or commercial building really clean, look to high-pressure cleaning with or without steam. Regular pressure washing can keep everything looking like new. It's the safest, most efficient way to get rid of:
Dirt

Mold

Mildew

Bacteria

Grease

Black spots in tile grouting

Cobwebs

Contaminated water left behind after a flood
What surfaces benefit most from pressure washing
Your home has many areas you can't get really clean by simply sweeping, blowing or hosing. High-pressure cleaning can reveal like-new surfaces in areas you use all the time, such as:
Driveways

Walkways

Brickwork

Stonework

Stucco

Wood decks

Play structures

Windows

Gutters

Trash cans
In your commercial building, pressure washing can help you with the above as well as:
What we mean by high-pressure and steam washing
Make sure your cleaning company is licensed, bonded and experienced in the latest eco-friendly washing techniques. Choose a company that is here to stay from year to year, one that stands behind its work – a company like XSI Disaster Services, which is locally owned and operated.
Contact XSI Disaster Services
We are your Atlanta area licensed high-pressure and steam washing professionals. Our people are fully trained in eco-friendly techniques. If you have areas in need of cleaning restoration, contact today us today at 770-787-9096. Serving the Metro Atlanta area.